Pricing
What's the minimum jersey order quantity?
We don't have any minimums on cycling apparel!
What's the turnaround time?
Typically, an order can be processed for production in 1 to 2 weeks. That includes initial inquiry, artwork approval, order submission, and down payment. Then production takes 6-8 weeks from the date of the down payment.
Can I rush my order?
Yes, but only when available. Our factory does get very busy in the summer time, so we don't always have the ability to rush an order. There is a 30% charge for rush orders, and the turn around is 3 weeks, instead of 6 weeks.
How do I pay for my order?
We accept Checks, Cash, Credit Card, and PayPal. Once your full order is submitted, we will submit an invoice to you for the full amount. Your payment in full must be received before your order goes into production.
Are there any additional fees?
Yes, artwork fees and shipping charges, if applicable. See more about design costs on the Artwork Guidelines page. Shipping charges will be addressed upon your initial inquiry.
Logos + Graphics
Cycling Apparel Design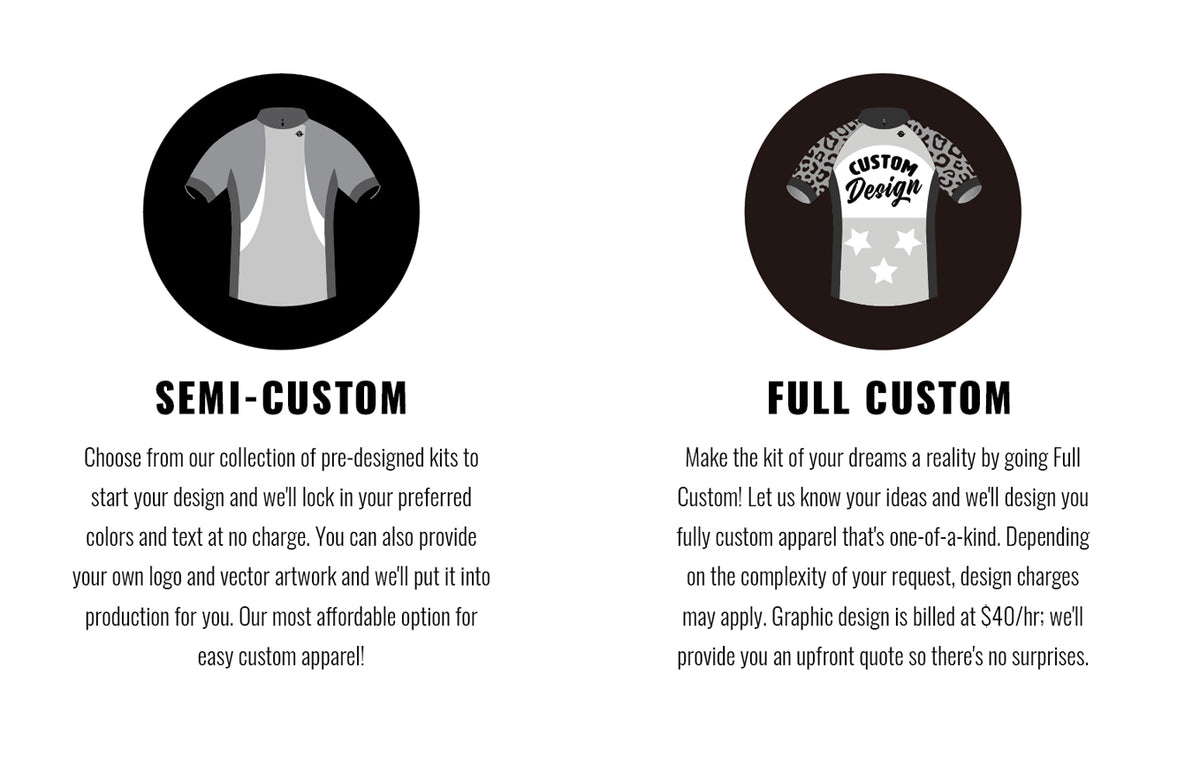 Approval Process
Upon your initial inquiry we will ask you specific questions about what you are looking for in a design. Once we have agreed on the level of design you are looking for, we will get to work. A first draft will be sent you in 3-5 working days. If any adjustments need to be made after that, we will re-submit the design for approval in another 2 days. Please keep in mind that simple designs will likely be done sooner and more complex designs will sometimes take longer. Once final approval of the design is received, we will then finalize the complete order with you. Then, once payment is made in full, your order will be submitted for production.
Terms of Service
Privacy Policy
More Questions? Send us an email