About Us
Bike Rags Apparel is a small company located in Cedar Rapids, Iowa. We are believers, promoters, and producers in the bike industry and for bike people. We're all about highlighting the awesome identity of our customers with one-of-a kind products and spreading the love of bikes far and wide.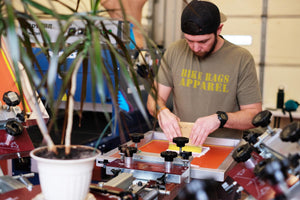 Tony Burnett - Owner | Production Manager
The creator and lifer of Bike Rags Apparel! With over a decade of Screen Printing experience, Tony will ensure you get the best service and products from the start of your project to the end. As an avid biker, Tony has perfected our custom cycling apparel catalog so you can dial in your dream kit. While you can often find Tony at the shop, running the press and sewing hats, you can also find him pedaling the trails near Bike Rags Headquarters in Cedar Rapids! Other times you can catch him fishing and hunting with Otis!
Contact Me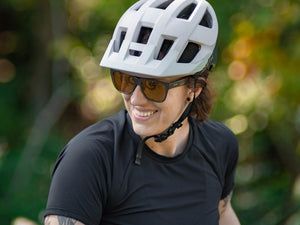 Kate Strom - Design and Marketing
Known by her artist statement, "Make stuff, ride bikes," Kate is a proud bike advocate, designer, and weirdo living in Lexington, Kentucky. Getting people together to play bikes (and drink bourbon) is a passion, along with designing awesome stuff for bike-minded people. Catch her on the trails riding, coaching, or stoking the stoke as a Kona Bikes ambassador. She usually answers to "Who wants a beer?"
Contact me